Meet English-speaking employment lawyer in the Netherlands - Eva Jongepier
As an experienced employment lawyer in the Netherlands, I bring deep expertise in Dutch labor laws, serving both employers and employees and providing a comprehensive understanding of the employment law challenges they confront in the Netherlands.
My practice as a Netherlands employment attorney, which represents both parties (employers and employees), allows me to gain a thorough understanding of their legal concerns. I specialize in a wide range of areas of Dutch employment law, including:
employee rights
employer consultation
dismissal cases
workplace discrimination
contract negotiations
collective labor agreements, and
employment contract review.
My client-focused approach emphasizes strategic legal counsel and cost-effectiveness. I facilitate dispute resolution in the Netherlands and help negotiate working conditions, in line with Dutch wage and hour laws. I also provide legal assistance in cases of unlawful termination under Dutch law and help clients secure workers' compensation or defend employers against such claims.
A significant part of my work involves employment litigation before the Dutch courts. As part of my mediation services, I work towards resolving conflicts amicably. I also advise on occupational safety in the Netherlands, human resource law, and structuring employee benefits under Dutch employment law.
My skills extend to drafting and reviewing employment agreements under Dutch law, advising on Dutch redundancy law, and navigating the intricacies of Dutch trade union law. As a Netherlands employment attorney, I have a firm handle on cases involving workplace harassment and am committed to promoting equal employment opportunity in the Netherlands.
My experience with Dutch labor arbitration helps in settling labor disputes and dealing with employment tribunals. I'm adept at handling discrimination claims and harassment claims, and I also provide representation in cases of wrongful dismissal.
I guide clients in drafting severance agreements, interpreting non-compete clauses, ensuring whistleblower protection, and understanding maternity and paternity rights. Additionally, I offer employment law training to help clients stay informed and educated about their rights and responsibilities.
---
Dutch employment attorney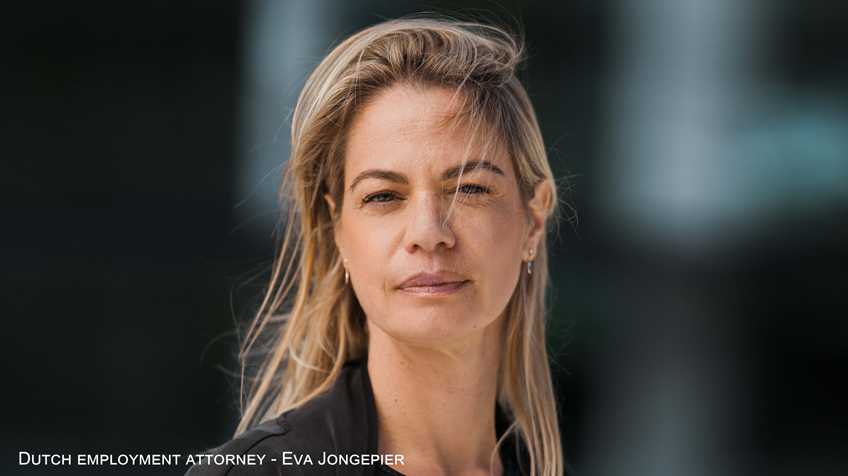 I have more than 20 years of experience in Dutch employment law. My active membership in professional organisations and the Dutch Bar Association keeps me in touch with the field.
Not only do I regularly speak and publish on employment law topics, but I also contribute to conferences and articles on Dutch employment law, which continually enriches my knowledge base. In 2023, the Dutch Law Institute invited me to write English articles on Dutch employment law.
I am a multilingual employment lawyer, fluent in English and Dutch, with a working knowledge of German and French.
My ultimate goal as a Dutch employment lawyer is to help my Dutch and international clients navigate the complexities of employment law with confidence. By providing expert advice and representation, I strive to achieve the best possible results for them in every situation. With experience in severance pay, transitional payments, fair compensation and various clauses, I provide comprehensive support. I am also experienced in director removals, company reorganisations and takeovers.
---